RAM American pickups are a big hit with Australian motorists needing a strong towing vehicle. Take a look at the 2020 RAM pickups for Australian motoring.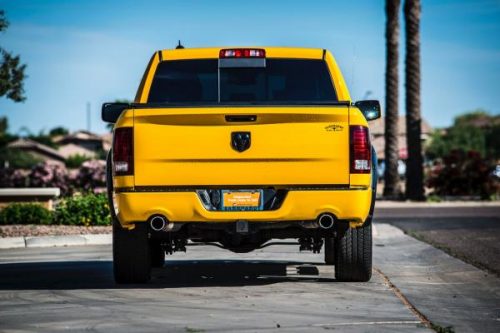 Morayfield, Australia - August 10, 2020 /NewsNetwork/ —
2020 RAM 2500 and 3500 American Pickups in Australia: Need to Know Information
They're among the most-talked-about heavy-duty pickups in the United States, and among the most coveted extreme towing vehicles in Australia. Sure, there aren't many of them on the roads – these imports aren't the average Aussie workhorse, but there's no denying that this pickup is a head-turner. We asked automotive industry expert Ann Anderson of vehicle importers Maracoonda Automotive just what's so special about the 2020 Ram 2500-3500 and walked away wanting one of them even more than ever before. Here's the lowdown.
The Ram 2500 and 3500 A Peep Under the Hood
We've already commented on the new Ram trucks'..fantastic looks. The sleek exterior has those wild-child, don't-mess-with-me looks that will excite admiration wherever they go. But these pickups aren't just good-lookers – it's what's inside them, both under the hood and in the passenger cabin, that matters most.
"If I said 6.7 litre engine, you're already getting part of the picture," says Anderson, a veteran importer of American FORD & RAM Pickup vehicles. "If that doesn't mean much to you, let's just say we're talking powerful – very powerful indeed. Chevy and GMC haven't come up with anything that can hold a candle to that Cummins engine. Into tech specs? That's 1000 lb-ft or 1355.81 Nm of torque under the hood, and despite all that, it's quiet. It purrs rather than roars."
The tame beast that's under the hood of the new RAM Pickup vehicles may not be nippy for town-driving, but it's built for power and heavy hauling to help with all the legal requirements of towing. "That's what Maracoonda specialises in," says Anderson. "Your family sedan just isn't made for heavy hauling, but this beauty is at its best with a heavy load behind it."
Drivers need to satisfy the legal requirements for payload & towing. Incorrect information regarding these aspects can lead to significant problems should the vehicle be inspected by the Road Transit Authorities. Incorrect weights can lead to several different scenarios from:
Leaving the vehicle on the side of the road until the issues have been corrected
Insurance cancellations [a disaster in an accident]
Fines and loss of points
Luxury Interior Turns the Longest Load Trips Into a Pleasure
Lets take a peep into the cab of one of Maracoonda Automotive's newly-imported 2020 RAM Pickup vehicles. It has been converted to right-hand drive by her company, but one will never say it hadn't been made that way. And as for the cabin itself, it's roomy and tastefully designed in a style that yells "luxury" as loudly as the Cummins engine is quiet.
The Longhorn crew cab even features real wood trim – not something you'll see often these days. Just enough to tell the viewer that they're looking at something rather special. The Black and Cattle Tan Leather upholstered seats match the overall picture to perfection, and despite this being a four-door pickup, there's no shortage of leg-room.
The massive centre console is somewhat surprising but Anderson explains that it's designed to hold the driver's electronic devises. However, there's more than the obvious to this interior.
"The windows are fitted with acoustic glass, and there's an active noise cancellation system that will ensure you get the quietest ride imaginable. That's especially important on long road trips. Sure, we can tolerate a bit of road and engine noise if we're just going a few kilometres, but on long roads, you won't even have to deal with that. It just whispers along," says Anderson.
Read: Queensland Left-Hand Drive Conversion New Ram 2500 American Pickup Trucks Import
Packed With High-Tech Gadgetry
Even without touching on the infotainment options and just looking at the driver-assistance and safety features, it's obvious that RAM has put thought into the best uses for the latest tech.
"Front and rear parking sensors come as standard," says Anderson, "but RAM offers a package of additional features if needed. Clients can get an automated emergency braking system, a forward collision warning feature, blind-spot monitoring systems, and adaptive cruise control. It's up to the client if they want them included which is great for those drivers who prefer to be minimalistic with tech."
American RAM Pickups in Australia: Converted for Compliance
Without knowing that a vehicle imported from the US would have a left-hand drive, one would never had known it had been converted for Australian compliance. When asked about the conversion, Ann assured us that every step of what looks like a factory-floor job took place at Maracoonda Automotive.
"We don't like outsourcing," Ann says. "It takes away control over the job, and if we want it to be perfect, we need to know every little thing that was done, how it was achieved, and the qualifications of the people who did the work."
"I think that's one of the things that makes Maracoonda Automotive stand out from the crowd, why clients come back for more and one of the reasons why we've been successful in this business for decades now. As for this beauty, she'll give many years of motoring pleasure, and it's our pleasure knowing that its buyer is going to have a fantastic motoring experience."
For more information visit Maracoonda Automotive | American Pickup Truck Imports Queensland website or call Ann and her team of experts on 07 5496 7773.
Syndicated by Baxton Media, The Market Influencers, Your Digital Marketing Agency.
Contact Info:
Name: Public Relations
Email: Send Email
Organization: Maracoonda Automotive
Address: 223 Forest Hills Drive, Morayfield, Queensland 4506, Australia
Phone: +61-7-5496-7773
Website: http://maracoonda.com
Source: NewsNetwork
Release ID: 88971481